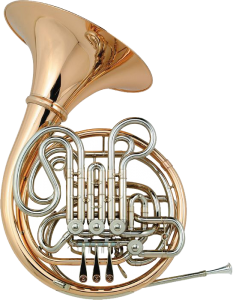 Holton's flagship model.
The world's finest French horn just got better; the new H105 replaces Holton's previous H104 flagship model.
The pursuit of perfection has yielded a new-generation French horn of superior performance and superb intonation. The H105's technological and acoustical flexibility enables the artist to perform in a wide variety of playing situations. Its 2 interchangeable mouthpipes with newly developed tapers make it easy to switch between work in small chamber ensembles and large symphony orchestras. The specially tempered red brass bell produces a rich, dark sound capable of great volume without getting brassy.
Holton horns offer an alternative in design that creates a great experience for the young or advanced players. This kruspe model is the top model that holton makes offering a sound like no other with its bronze construction and interchangeable mouthpipe mechanism.
This Farkas Wrap horn offers a large throat bronze bell and branch with a nickel silver body. In addition, it has an interchangeable leadpipe system for orchestral or chamber brass settings. Holton horns also feature tapered rotors which create longevity for the instrument.
Features
Specifications
Key
Bb/F double
Pitch
A445, with reversible 4th valve to "Bb-F" with independent Bb tuning
Bore
11.89 mm (.468")
Mouthpipes
Newly developed tapers
#3 is .306 venturi
#6 is .310 venturi
Valve rotors
Tapered hand-lapped brass with nickel silver outside casings.
Bearing plates
Tapered brass.
Material
Solid nickel silver.
Slides
Both inside and outside are hand-lapped nickel silver with rolled beads; short-length recessed slides for quick removal.
Bell
Large-throated hand-hammered specially annealed and tempered bronze, detachable, 12¼" diameter.
Mouthpiece
Genuine Holton medium-deep cup.
Waterkey
On each mouthpipe for quick water removal.
Case
Ultra compact wood shell case with dual handles and brass hardware.
Lever action
Noiseless string action, short stroke with stainless steel springs.