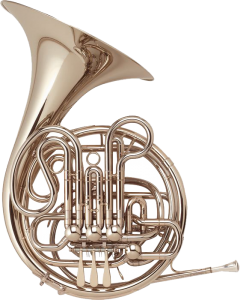 Impeccably crafted, artist quality.
Holton horns offer an alternative in design that creates a great experience for the young or advanced players. This Kruspe wrap model offers independent tuning for convenience allowing the player to tune the Bb side of the horn seperately from the F side.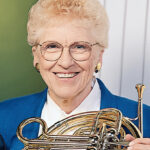 The Merker-Matic, the Ethel Merker model as is affectionately known, is a premium double French horn that offers the ultimate in craftsmanship and tonal splendor. Design features such as its newly designed 4th branch, dual bore, and mouthpipe tapers lead professionals to claim an ease of blowing in all registers as well as an exceptionally quick response and a smooth, precise legato. A genuine Holton Farkas MC silver-plated mouthpiece and slimine wood-shell case are included.
Key of F/Bb double, .468″ bore; 12.25″ medium-throated, hand-hammered, yellow brass detachable bell; .310 venturi of yellow brass; tapered hand-lapped valve rotors; brass branches and bows with solid nickel-silver connecting ferrules; slides are solid nickel-silver inside and outside. Includes silver-plated mouthpiece and slimline wood shell case.
Features
Specifications
Key
Key of F/Bb double.
Pitch
A445 with independent Bb tuning.
Bore
F: 11.89 mm (.468")
Bb: 11.68 mm (.460")
Mouthpipes
Newly developed taper with .306 venturi of nickel silver
Lever action
Noiseless string action, short stroke with stainless steel springs.
Valve rotors
Tapered hand-lapped brass with nickel-silver outside casings.
Bearing plates
Tapered brass.
Material
Solid nickel silver.
Slides
Both inside and outside are hand-lapped nickel silver with rolled bead rings; short-length recessed slides allow for quick removal.
Bell
12.25" diameter large-throated hand-hammered specially annealed with overlapping seam.
Mouthpiece
Farkas MC silverplated mouthpiece.
Waterkey
One on mouthpipe and one on 3rd Bb slide.
Options
Extra-long main and Bb tuning slides; H175 available with reversable 4th valve that permits changing from F-Bb to Bb-F as model H175ER; H175 available with detachable bell and flat case as model H275; H183 available with detachable bell and flat case as model H283