Holton H177 Professional Farkas French Horn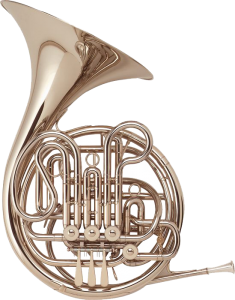 Equally at home in marching band or orchestra.
Holton horns offer an alternative in design that creates a great experience for the young or advanced players. This Farkas model offers independent tuning for convenience allowing the player to tune the Bb side of the horn separately from the F side.
The versatile Model H177 offers a compact feel and bright sound. It includes a hand-fitted rotary valve system, string linkage, separate Bb tuning slide, and a change lever designed to fit the thumb in a natural position. Made of extremely corrosion-resistant nickel silver.
Key of Bb/F double. .46″ bore; 12-1/4″ medium-throated, hand-hammered, nickel silver bell; .310″ venturi of nickel silver; tapered hand-lapped brass valve rotors; nickel silver branches, bows, and ferrules; solid nickel silver slides.
Features
Specifications
Key
Key of F/Bb double.
Pitch
A445 with independent Bb tuning.
Bore
11.89 mm (.468").
Mouthpipes
310 venturi of nickel silver.
Lever action
Noiseless string action, short stroke with stainless steel springs.
Valve rotors
Tapered hand-lapped brass Branches, bows and ferrules: Nickel silver Slides: Solid nickel silver.
Bell
12.25" diameter medium-throated hand- hammered nickel silver.
Waterkey
On mouthpipe.
Options
Extra-long main and Bb tuning slides, detachable bell and flat case available as model H277.