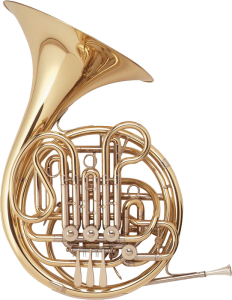 Excellent horn for chamber orchestra.
Holton horns offer an alternative in design that creates a great experience for the young or advanced players. This Farkas model offers independent tuning for convenience allowing the player to tune the Bb side of the horn seperately from the F side.
Bright, compact feel and sound with outstanding tonal beauty. Bell proportions provide a dark but singing tone with fine legato characteristics. Yellow brass produces a higher tone color with more overtones and clearer projection. Capable of playing pianissimo staccato notes sensitively, clearly, and evenly.
This Farkas Wrap horn offers a medium throat bell with all nickel silver construction. In addition, the Holton Farkas horns all feature an independent tuning slide for the Bb side of the instrument for convenience. Holton horns also feature tapered rotors which create longevity for the instrument.
Features
Specifications
Key
Key of F/Bb double.
Pitch
A445 with independent Bb tuning.
Bore
11.89 mm (.468")
Mouthpipes
.310 venturi of yellow brass.
Material
Brass branches and bows, solid nickel silver connecting ferrules. Both inside and out are solid nickel silver.
Lever action
Noiseless string action, short stroke with stainless steel springs.
Valve rotors
Tapered hand-lapped brass.
Bell
12.25" diameter medium-throated hand-hammered yellow brass.
Waterkey
On mouthpipe.
Options
Extra-long main and Bb tuning slides, detachable bell and flat case available as model H278.