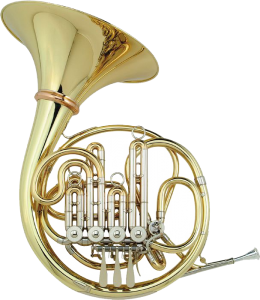 A full, not compensating, double.
This instrument is a "full" (not compensating) double, requiring no compromise of intonation on valve combination, as is the case with compensating designs. The fifth valve is a Bb-F rotor. The fourth valve is a muting valve that lowers the horn 3/4 step to bring stopped horn mutes into tune without intonation. Extra fourth slide puts Bb in the key of A, so written E horn parts do not have to be transposed.
Holton horns offer an alternative in design that creates a great experience for the young or advanced players. This descant model is unique in design and offers a sound like no other with its bronze construction and nickel silver body.
The Holton Descant horn offers a rich sound with a medium throat bronze bell combined with a nickel silver body. Holton horns also feature tapered rotors which create longevity for the instrument.
All Holton French Horns, including the single and double models, feature valve rotors that are tapered. This is so that as the valve wears, it automatically seats itself. This includes the bearing surfaces axles on each end of the valve and the bearing plates.
All Holton French Horn bells are made with overlapped seams. This is much more durable than one made with a butt seam. It also produces a better tone and timbre. This is one of the outstanding characteristics on which Holton USA French Horns developed its reputation.
Key of Bb/high F Descant. .468″ bore; 12.25″ large-throated, hand-hammered, yellow brass detachable bell; 5 valves; tapered, hand-lapped brass rotors; brass branches and crooks with solid nickel silver connecting ferrules; slides are hand-lapped brass both inside and outside; lacquered brass finish.
Features
Specifications
Key
Bb/High F
Finish
Lacquer
Bore
.468" (11.89mm)
Bell
12.25" large-throated, hand-hammered yellow brass detachable bell
Wrap
Geyer
Rotors
Tapered Rotors, 5 valves.
Bearings
Tapered
Material
Yellow Brass, lightweight Nickel Silver valves.
Case
Deluxe Harshell.
Mouthpiece
Holton Farkas MC.
Extras
Mechanical action linkage, water key on mouthpipe AND main branch.