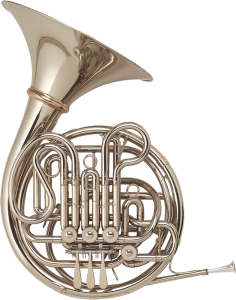 Equally at home in marching band or orchestra.
The versatile H277 offers a compact feel and bright sound. It includes a hand-fitted rotary valve system, string linkage, separate Bb tuning slide, detachable bell, and a change lever designed to fit the thumb in a natural position. Made of extremely corrosion-resistant nickel-silver.
The Holton H277 Farkas Double French Horn is a versatile instrument with a Krüspewrap and hard nickel silver material which responds quickly providing an open, dark sound. It has a detachable screw bell for easy transportation and storage.
All Holton French Horns, including the single and double models, feature valve rotors that are tapered. This is so that as the valve wears, it automatically seats itself. This includes the bearing surfaces axles on each end of the valve and the bearing plates.
All Holton French Horn bells are made with overlapped seams. This is much more durable than one made with a butt seam. It also produces a better tone and timbre. This is one of the outstanding characteristics on which Holton USA French Horns developed its reputation.
Features
Specifications
Key
F/Bb-Bb/F-Tuning, reversible
Finish
Lacquer
Bore
F: .468" (11.89mm)
Mouthpipe
Newly developed taper with .306 venturi of nickel silver.
Bell
Detachable screw 12.25" Nickel Silver.
Wrap
Krüspe
Rotors
Hand Lapped, Tapered
Bearings
Tapered
Slides
Nickel silver inner and outer slides.
Case
Deluxe Harshell.
Extras
Lightweight Nickel Silver valves, string action, water key.