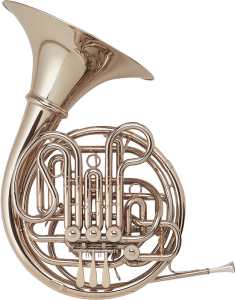 With detachable bell.
The Holton H279 Farkas Professional French Horn is the same as model H179, but with a detachable bell. Farkas models are regarded among working professionals and leading academics as the flagships of the Holton fleet. These French Horns produce the truly centered tone sought by all, and its true temper makes it a delight to fly over even the most difficult passages. The solid nickel silver edition model H279 has especially good center and projection. This free-blowing horn features a rich, dark sound designed for the "big horn" artist. The tapered tubing and throat of the bell are larger for a bigger, darker tone. The H279 French Horn's bell flare produces a mellow, velvety tone plus a little overtone of a ringing quality. Hard nickel silver responds quickly and sounds brighter up close.
Holton horns offer an alternative in design that creates a great experience for the young or advanced players. This Farkas model offers independent tuning for convenience allowing the player to tune the Bb side of the horn seperately from the F side.
This Farkas Wrap horn offers a medium throat bell with all nickel silver construction. In addition, the Holton Farkas horns all feature an independent tuning slide for the Bb side of the instrument for convenience. Holton horns also feature tapered rotors which create longevity for the instrument. Detachable bell for convenience of travel.
The Holton H279 Farkas Double French Horn is the most popular Farkas horn. It has particularly good centre and projection with a Krüspe wrap and solid nickel silver material which responds quickly along with the large throat, detachable screw bell and largefree-blowing tubing providing an open, dark sound.
All Holton French Horns, including the single and double models, feature valve rotors that are tapered. This is so that as the valve wears, it automatically seats itself. This includes the bearing surfaces axles on each end of the valve and the bearing plates.
All Holton French Horn bells are made with overlapped seams. This is much more durable than one made with a butt seam. It also produces a better tone and timbre. This is one of the outstanding characteristics on which Holton USA French Horns developed its reputation.
Features
Specifications
Key
F/Bb-Bb/F-Tuning, reversible. Separate Bb-tuning slide
Finish
Lacquer
Bore
.468" (11.89mm)
Bell
Detachable screw 12.25" Large Throat, Nickel Silver. 310 venturi of nickel silver. Noiseless string action, short stroke with stainless steel spring.
Wrap
Krüspe
Rotors
Hand Lapped, Tapered
Bearings
Tapered
Material
Nickel Silver
Case
Deluxe Harshell.
Extras
Lightweight Nickel Silver valves, string action, water key.